Amaterasu Flees
Edit
In 1132 with the death of her husband Onnotangu at the hands of Hitomi, Amaterasu fled the Celestial Heavens, and angered by what the humans had done she ordered the Kami Shinjo to collect the Ancestral Swords and scattered them to the heavens. With the disappearance of Lady Sun Rokugan was shrouded in total shadow, increasing the power of the Lying Darkness tenfold. [1] It soon became apparent that Onnotangu was just a pawn.
Burning Sands
Edit
In the Burning Sands the Twenty-Seven Days of Darkness also began. It was after the Awakening and the death of the immortal Caliph Hanan Talibah. [2] Shilah the Sun, and Kaleel the Moon fled the sky, which allowed their son Kaleel to roam free again in the world, [3] a jinn lord who had been imprisoned in the Black Earth since the Day of Wrath. With the aid of the Kaleel's Legion they confronted other ancient powers on the Sands for the control of these lands. The Lying Darkness moved to undo the world. [4]
Hitomi's Travels
Edit
Hitomi traveled the whole of Rokugan in the 27 days, arriving at the Shrine of the Three Sisters where she was guided to her destiny, commited seppuku with Shiba Odoshi as her second, and ascended into the celestial heavens becoming Lady Moon.
The following is a list of each location Hitomi visited:
Death of Amaterasu
Edit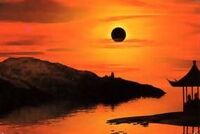 Led by the pain of the Bright Eye through his connection with the Akasha, Yakamo found Amaterasu and became her second as she committed jigai. Afterwards he too ascended into the Heavens becoming Lord Sun. [5]
References
External Links
Edit