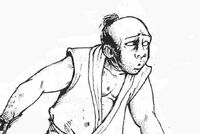 Tujii was an eta who worked as a grave digger alongside his friend Norii in the Lion lands under Matsu Ino's rule. A Crane samurai, Kakita Hachi, hired them to bury the corpse of a young beautiful Scorpion. When they where doing it the corpse raised, and magic began to glow in her hands. Norii struck her with the pick and they fled, fearing the ghost had left behind. [1]
References
Ad blocker interference detected!
Wikia is a free-to-use site that makes money from advertising. We have a modified experience for viewers using ad blockers

Wikia is not accessible if you've made further modifications. Remove the custom ad blocker rule(s) and the page will load as expected.