Tsuruchi Yashiro was a bushi scout of the Mantis Clan who became the defender of the badge of office of the Obsidian Champion.
Yashiro was a warrior scholar who studied military teatrises. He grudgingly admired the Scorpion Clan for their merciless tactics and the Lion Clan for their immaculate formations. [1]
Colonies
Edit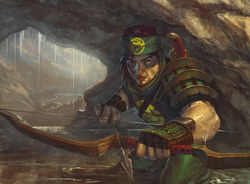 Yashiro was appointed as member of the Ninth Imperial Legion. [2] In 1198 he moved to the Colonies, and he met his friend Yoritomo Tarao, who had become a follower of Fudo. [3]
Brother's Death
Edit
During the Siege of the Second City his brother Tsuruchi Yakusho was killed by Akodo Tsudoken, Head of the Second City Guardsmen. Yashiro took vengeance when he wounded and captured Tsudoken while the Lion was leading a counterattack in the Temple District. [4]
Riots in the Second City
Edit
Yashiro was the yojimbo of Yoritomo Sachina during her conversations with Doji Iza, regarding the end of hostilities among both Clans. They were surprised when rioters began to set to fire city buildings and kill those they encountered in their way. Kakita Sasa, Iza's yojimbo, drew her sword towards Sachina's throat, and requested the Mantis would try no trickery or betrayal while they combated this threat. Yashiro appeased the Crane, but he kept an eye on Sasa, concerned by her strange outburst. [5]
Resumed Negotiations
Edit
Once P'an Ku was banished and the order in the Second City was restored, both delegations resumed the negotiations. The Mantis had appointed Yoritomo Yashinko as the new head of their delegation, with Yashiro as her yojimbo. [2]
Defender of the Obsidian Blades
Edit
Ikoma Ayumu for years had been the guardian of the weapons and armor of the Obsidian Champion. Yashiro was selected as his successor in the duty of safeguarding them. The Lion had slew the last Obsidian Champion and refused to take up the mantle. In the Colonies, Yaishiro continued to watch over the cursed blades, [6] Mukizo, the Ancestral Weapon of the Chuda, and Daigotsu Hotako's kama. [7]
External Links
Edit
References
Ad blocker interference detected!
Wikia is a free-to-use site that makes money from advertising. We have a modified experience for viewers using ad blockers

Wikia is not accessible if you've made further modifications. Remove the custom ad blocker rule(s) and the page will load as expected.