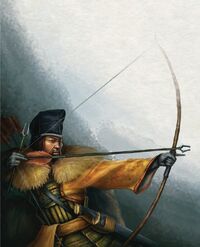 Tsuruchi Toburo was a bushi and scout of the Mantis Clan.
Destroyer War
Edit
In 1173 during the Destroyer War the Taisa Toburo fought at the Battle of Kyuden Ashinagabachi. His Tsuruchi archers fired thicker arrows which were magically propelled by Moshi Shugenja, and with their superior force penetrated the Destroyers shells. Moshi Awako and her acolytes called the thunder and lightning stroke the specially prepared arrows and leaping from one of the Destroyers to another. [1]
External Links
Edit
References
Ad blocker interference detected!
Wikia is a free-to-use site that makes money from advertising. We have a modified experience for viewers using ad blockers

Wikia is not accessible if you've made further modifications. Remove the custom ad blocker rule(s) and the page will load as expected.