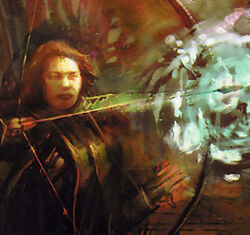 Tsuruchi Takeba was a budoka of the Mantis Clan.
Aiding the Prophet
Edit
In 1169 the Fox Clan requested the Mantis aid to deal with bandits that plagued the Kitsune Mori. These bandits nearly overrun the Kitsune and kidnapped a prophet, Kitsune Narako. Takeba was part of the Tsuruchi forces that arrived in their help. Takeba killed one of the brigands, only to realize that instead a human corpse what she had killed was a skeleton. The bones were old, with ancient rags, but the grass behind green and bent. Takeba returned to told Moshi Amika the enemy were not ordinary prey. [1]
External Links
Edit
References
Ad blocker interference detected!
Wikia is a free-to-use site that makes money from advertising. We have a modified experience for viewers using ad blockers

Wikia is not accessible if you've made further modifications. Remove the custom ad blocker rule(s) and the page will load as expected.