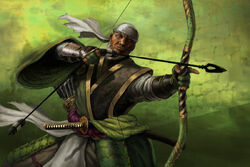 Tsuruchi Taiga was a bushi and commander of the Mantis Clan.
Taiga was a Taisa of the Third Storm. [1]
Chasing bandits inside Dragon lands
Edit
In 1170 in the recently reopened Imperial Court, Yoritomo Yoyonagi claimed the right of the Mantis to chase a juzimai, the Tengoku's Justice, inside the Dragon territory. She exposed the Dragon were not fighting the menace, and refused to let pass Taiga's unit after the bandits attacked several Mantis caravans. Otomo Hoketuhime dismissed the arguments of Kitsuki Iweko and edicted the Mantis were to be granted access to the Dragon lands and allowed to seek justice. [1]
External Links
Edit
References
Ad blocker interference detected!
Wikia is a free-to-use site that makes money from advertising. We have a modified experience for viewers using ad blockers

Wikia is not accessible if you've made further modifications. Remove the custom ad blocker rule(s) and the page will load as expected.