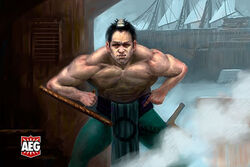 Tsuruchi Sanjo was a bushi and magistrate of the Mantis Clan.
Demeanor
Edit
Sanjo had an habit of complaining about everything, which became wearing at times to his companions. [1]
Sanjo was a member of the Empress' Guard during the reign of Iweko I. [2]
In 1172 he was alongside Matsu Kasei guarding the estate of Taishuu, the Spider ambassador to the Empire. He considered the task a terrible boredom. [3]
Regicide attempt
Edit
After the attempt taken on the life of the Empress Sanjo's companions prayed for those who died during the fight, as Akodo Kurogane, or the Protector of the Imperial City Bayushi Norachai. [4]
Turquoise Championship
Edit
In 1173 Sanjo was present when his friend and companion Matsu Kasei won the first Turquoise Championship. [1]
External Links
Edit
References
Ad blocker interference detected!
Wikia is a free-to-use site that makes money from advertising. We have a modified experience for viewers using ad blockers

Wikia is not accessible if you've made further modifications. Remove the custom ad blocker rule(s) and the page will load as expected.