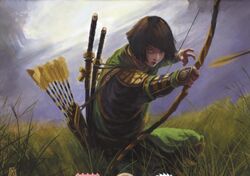 Tsuruchi Rin was a bushi and Bounty Hunter of the Mantis Clan.
A Brother's Destiny
Edit
Moshi Madohime ordered Rin to join the forces gathered by Iweko Seiken, the Imperial Heir, who was preparing his departure from the Empire for the Colonies. [1]
Striking the Tratior's Grove
Edit
In 1200 the Mantis was advised that Yoritomo Aramasu's ashes , [2] were under the scrutiny of the Scorpion Clan, who wished to bring them to the Traitor's Grove. [3] Rin led a group into the Grove, stealing to his guardian Bayushi Hoitsu the sacred daggers used to bind the souls to the trees. [4] Hoitsu was kidnapped and taken into custody by the group. [5]
External Links
Edit
References
Ad blocker interference detected!
Wikia is a free-to-use site that makes money from advertising. We have a modified experience for viewers using ad blockers

Wikia is not accessible if you've made further modifications. Remove the custom ad blocker rule(s) and the page will load as expected.