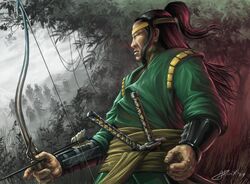 Tsuruchi Ohashi was a bushi and scout of the Mantis Clan.
Shogun forces
Edit
Ohashi was appointed to the legions of the shogun Moto Jin-sahn. [1]
Destroyer War
Edit
In 1173 during the Destroyer War Ohashi was under the command of Matsu Fumiyo. They marched towar Kyuden Ashinagabachi when they met Doji Jun'ai, the Keeper of Water. She told it was a conspiracy to allow the fall of the Mantis stronghold on hands of the forces of Kali-Ma. [1]
External Links
Edit
References