Tsuruchi Nobukatsu was a bushi, magistrate and bounty hunter of the Mantis Clan. He used to smoke kizami with his trademark Kiseru.
Ruby Champion
Edit
Nobukatsu became the Ruby Champion when the previous champion, Yasuki Miliko, passed the title to him. The post came with the burden of became sensei of the Ruby Dojo; gone were the days of tracking criminals, of accumulating testimony, and the rare thrill of the chase. Nobukatsu began to teach his famed techniques for hunting men, the very reason he was chosen and the thing he was expected to impart upon the new generations of magistrates. [1] He enjoyed the regimented schedule of his office and relaxed with his kiseru pipe. [2]
Hotako's Demise
Edit
In 1198 a tainted Spider who had disobeyed the Imperial edict that forbidden their presence within the Empire was caught by a magistrate. The prisoner revealed he had atttempted to reach an island, where Daigotsu Hotako was hidden, where many ronin were attempting to kill her in order to become the new Obsidian Champion. Nobukatsu arranged an operative to chase Hotako down, but before it was unleashed, he decided a final samurai to confront her. Ikoma Ayumu had appeared claiming the honor to take revenge against Hotako, who during the Destroyer War had turned on her Lion allies, with the result of many of them slaughtered and Ayumu tainted and his left arm severed. The samurai returned victorious, with Hotako's Kama and Mukizo, the Ancestral Sword of the Snake Clan. Nobukatsu let the tainted Lion to guard the blade in the newly built Shrine of the Jade Sun. [1]
Nobukatsu selected Isawa Kaname as his advisor [3] and Tamahime as his victor [4] and emissary to the Colonies. [5]
External Links
Edit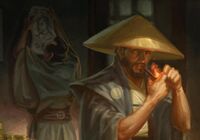 References
Ad blocker interference detected!
Wikia is a free-to-use site that makes money from advertising. We have a modified experience for viewers using ad blockers

Wikia is not accessible if you've made further modifications. Remove the custom ad blocker rule(s) and the page will load as expected.