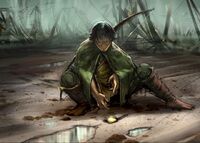 Tsuruchi Mochisa was a bushi, magistrate, and yojimbo of the Mantis Clan.
Magistrate
Edit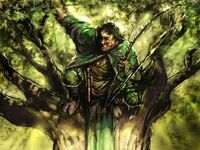 Mochisa was a promising young man who served as a magistrate of the empire for over fifteen years. [1]
Seppun Kiharu
Edit
In 1170 Mochisa was appointed yojimbo to Seppun Kiharu, the Seppun Daimyo. [1]
Celestial Tournament
Edit
After the Celestial Tournament, Mochisa accompanied Miya Shoin's chief yojimbo Togashi Kazuki  to summon Yoritomo Yashinko to the Imperial Treasury, where she discovered Yoritomo Utemaro had been named Imperial Treasurer.  Mochisa found the Dragon samurai to be 'quite stodgy'. [2]
External Links
Edit
References