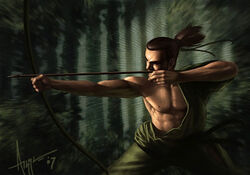 Tsuruchi Mitsuzuka was a bushi of the Mantis Clan.
Mitsuzuka served under Yoritomo Han-ku on the Venture. He was ordered by Han-ku to remain in Blue Reef Village to investigate possible connections to the Serpents of Sanada pirates. He witnessed the attack by the Serpents and the intervention of the Spider Clan led by Tatsune and Yoritomo Hotako. Hotako told Mitsuzuka that she would be joining the Spider, and that the Mantis need no longer worry about the Serpents of Sanada. [1]
External Links
Edit
References
Ad blocker interference detected!
Wikia is a free-to-use site that makes money from advertising. We have a modified experience for viewers using ad blockers

Wikia is not accessible if you've made further modifications. Remove the custom ad blocker rule(s) and the page will load as expected.