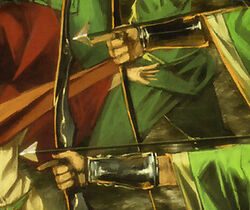 Tsuruchi Longbow were used by Tsuruchi Archers, and they were considered as deadly as their wielders. [1] These bows were taller and more powerful than standard yumi, with thicker staves and heavier draws. [2] Its design had been greatly Influenced by the Mantis Clan's experiences in the Ivory Kingdoms. Tsuruchi Archers developed powerful chest muscles until they could fire these custom bows with speed and power. [3] The secret of their making was stolen by the Scorpion Clan in 1200. [4]
External Links
Edit
References
Ad blocker interference detected!
Wikia is a free-to-use site that makes money from advertising. We have a modified experience for viewers using ad blockers

Wikia is not accessible if you've made further modifications. Remove the custom ad blocker rule(s) and the page will load as expected.