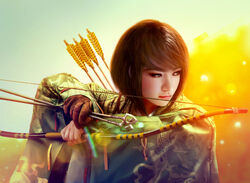 Tsuruchi Kosoko was a bushi of the Mantis Clan. She was brilliant, beautiful, and virtuous. [1] Her grandmother was Tsuruchi Saya. [2]
Training
Edit
Kosoko was once asked to become a courtier for the Mantis, as her astounding beauty would have proved a great asset for her clan. She politely refused and followed her dream of becoming a skilled archer. She was a model of bushido to her brethren with her studiousness and morality. [3]
Colonies
Edit
Exploring the Kingdoms
Edit
In 1198 Kosoko was exploring in the Colonies when she found herself menaced by Ruhmalites, who had laid traps in the area. Kosoko felled three of the cultists with her arrows, but fell into a snake-shaped spikes pit while evading their daggers. She climbed safely out of the crevasse with a rope. The story was told even in the court of the Imperial Governor of the Colonies in the Second City. [4]
Siege of the Second City
Edit
Kosoko volunteered for an expedition to find the Temple of the Golden Monkey, patroned by Komori Taigo. They were on hold until the Siege of the Second City would be lifted. [5]
External Links
Edit
References
Ad blocker interference detected!
Wikia is a free-to-use site that makes money from advertising. We have a modified experience for viewers using ad blockers

Wikia is not accessible if you've made further modifications. Remove the custom ad blocker rule(s) and the page will load as expected.