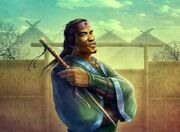 Tsuruchi Fuyu was a bushi and magistrate of the Mantis Clan.
Kokujin's Defeat
Edit
Hogai went on to fight against Kokujin's forces in the battle where Kokujin was killed. [1]
Service in Dragon lands
Edit
In 1170 Moshi Chuuya led a small command of archers into the lands of the Dragon Clan on orders from late Otomo Hoketuhime. They were tasked with removing the bandit [2] lord known as the Son of the Moon. [3] In the road to Toi Koku she and her companions Tsuruchi Fuyu, and Tsuruchi Masako began the mission killing several brigands. The Dragon, led by Mirumoto Jairuzu, saw this as an unwarranted incursion into their territory [2] and tried to detain the Mantis detachment. Two Dragon were killed in the ensuing skirmish, but no Mantis were killed. [3]
External Links
Edit
References
Ad blocker interference detected!
Wikia is a free-to-use site that makes money from advertising. We have a modified experience for viewers using ad blockers

Wikia is not accessible if you've made further modifications. Remove the custom ad blocker rule(s) and the page will load as expected.