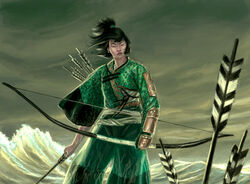 Tsuruchi Chae was a scout and Bounty Hunter of the Mantis Clan.
War of Fire and Thunder
Edit
Chae fought in the War of Fire and Thunder. She desired nothing more than to slay the arrogant fools who had presumed to question the Mantis claim to Great Clan status. [1]
Sea of Shadows
Edit
Chae was furious at having been removed from the front lines of her clan's war with the Phoenix in 1167. The disappearance of a Mantis ship scheduled to return from the Ivory Kingdoms had been left to her to deal with. There were rumors that the Crab were active in the Osaku Route, and looking for Mantis prey. [1]
Three vessels of each clan, had come together near the border of the Sea of Shadows and hunted each other across the water for days. After a storm Chae's vessel collided with a Crab Iron Turtle and both captains spoke ill to the other. When the Crab accused her of piracy, understanding blossomed in Chae's mind. Crab and Mantis vessels had been sunk by the Dark Wave Fleet, and rumours were spread expecting both Clans could hunt the other in vengeance. Despite her efforts to keep the fight at bay, Hida Unkei boarded the Mantis vessel and confronted Chae, who killed him in the fight, while the Mantis vessel began to sink. [1]
Battle of Broken Waves
Edit
This year the entire Mantis fleet sailed on the lands of the Phoenix in a winner-take-all assault. Chae and her scout party provided a report indicating that the Shiba Army was moving to intercept their course. [2] She fought in the Battle of Broken Waves, which marked the end of the war. [3]
External Links
Edit
References
Ad blocker interference detected!
Wikia is a free-to-use site that makes money from advertising. We have a modified experience for viewers using ad blockers

Wikia is not accessible if you've made further modifications. Remove the custom ad blocker rule(s) and the page will load as expected.