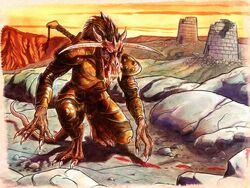 Tsuno Sochi was a Tsuno.
The Tsuno
Edit
In 1165 Tsuno Nintai sent a letter to Te'tik'kir, the Nameseeker leader of the Crippled Bone Tribe, proposing to share knowledge with one another to face this new menace, Iuchiban. [1] Te'tik'kir and Kan'ok'ticheck, Chief of Chiefs of five nezumi tribes, met Sochi and Ikm'atch-tek in the Meeting Place. Ikm'atch-tek offered to exterminate together the humans, but the Nameseeker did not trust the Tsuno. Ikm'atch-tek then told that the Stained Paw accompanied by Nintai's Soultwisters, had ambushed the Crippled Bone while they were speaking, and also that Sochi's Ravagers had surrounded the Meeting Place, prepared to murder Kan'ok'ticheck and his followers. Te'tik'kir could save them only testing the strength of his name against Ikm'atch-tek's name. [2]
External Links
Edit
References
Ad blocker interference detected!
Wikia is a free-to-use site that makes money from advertising. We have a modified experience for viewers using ad blockers

Wikia is not accessible if you've made further modifications. Remove the custom ad blocker rule(s) and the page will load as expected.