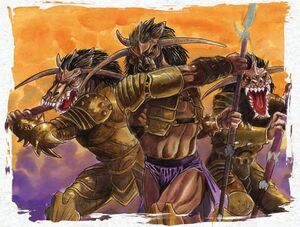 Tsuno Elite Guard was the elite group of the Tsuno Ravagers. They had their barracks at Nikushimi Shinden, the dojo for the Tsuno Bushi school. They were led by the Captain of the Elite Guard. [1]
The Elite Guard wore significant amounts of armor, so they were gifted with Tsuno Armor, forged in a complex ritual, binding the many sections of steel together spiritually. The enchantment process required them to be physically present at the forge for the year it took to create each suit. [2]
External Links
Edit
References
Ad blocker interference detected!
Wikia is a free-to-use site that makes money from advertising. We have a modified experience for viewers using ad blockers

Wikia is not accessible if you've made further modifications. Remove the custom ad blocker rule(s) and the page will load as expected.