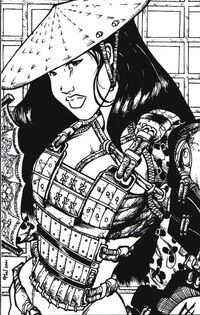 Tsuniko was a samurai-ko and distant cousin of Ekaido, gokenin of the village of Mimura. She was appointed of the village's yoriki, in charge of the city militia and patrols. She was not physically or emotionally strong, and tried to hide her sadness behind her work. [1] Tsuniko turned to sake and shochu, she did not accept the responsibility of monitoring other samurai well. [2]
References
Ad blocker interference detected!
Wikia is a free-to-use site that makes money from advertising. We have a modified experience for viewers using ad blockers

Wikia is not accessible if you've made further modifications. Remove the custom ad blocker rule(s) and the page will load as expected.