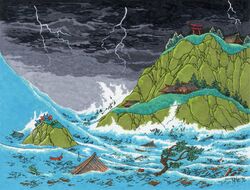 Tsunami was the Rokugani word for "tidal wave". [1] They were destructive ocean waves frequent in the Rokugani coast, and they thwarted most attempts at deep ocean voyages of discovery. [2]
Appearance
Edit
Tsunami began far out at sea and often seem to come in conjunction with great tremors or earthquakes. A huge displacement of water occurred and a massive wave arose, gathering height and strength as it closed with the shore. Once the wave stroke land, it scoured away the works of man as though they never were. [3]
Known Tsunami
Edit
In the year 514 a tsunami hit the seashore provinces of the Crane. Bloodspeaker cultists stole several of the corpses. [4] In 814 a tsunami ravaged the Rokugani eastern coast. The supply of deepwater staples such as bluefin tuna and mackerel was severely disrupted, creating a new demand and a temporary courtly preference for freshwater fish. [5]
External Links
Edit
References
Ad blocker interference detected!
Wikia is a free-to-use site that makes money from advertising. We have a modified experience for viewers using ad blockers

Wikia is not accessible if you've made further modifications. Remove the custom ad blocker rule(s) and the page will load as expected.