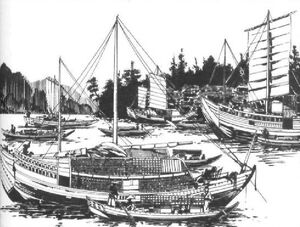 Tsuma (CN10) was a village in Crane lands near the ocean which held the annual Topaz Championship. [1]
Appearance
Edit
Tsuma was a fishing town slightly larger and more active than other rokugani villages. It contained only a few dozen small homes as well as a handful of barns, storehouses and shops. It lay along the Tangu River a few miles from the coast and had one small wharf. The main feature to the town was the Temple to the Seven Fortunes. [2] It was removed from the more heavily traveled highways and with little to offer in the way of comforts for the odd visitor. Despite its small size, it boasted an unusual number of inns, sake houses, theaters, geisha houses, and other services to comfort and supply weary travelers. A bamboo forest surrounded the road to the town. [3]
Inhabitants
Edit
Most people were fisherman and farmers mainly of rice, tea, wul, silk and cotton, as well as a few skilled artisans including weavers, builders, painters and gardeners. [2]
Temple to the Seven Fortunes
Edit
The white stone Temple to the Seven Fortunes is a large, square building rising up fifty feet crowned with two circular rooftops, one stacked atop the other and painted in the bright blue of the Crane. A large mirrored ball representing Amaterasu sits atop the second circular roof reflecting her blessing in all directions. A long white marble flight of stairs arched by seven torii, leads to the arched twin iron doors, each thirty feet high, of the temple. At any given time there are just over a dozen monks in attendance maintaining the temple and offering services from healing to spiritual guidance. [2]
Other notable Buildings
Edit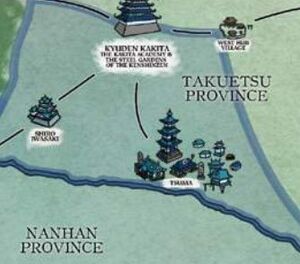 References