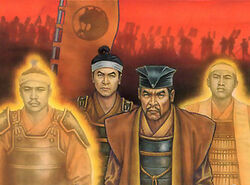 Tsuko's Heart was a legion of Lion returned spirits, allowed to be formed by Ikoma Tsanuri in memory of the sacrifice of Matsu Tsuko. It's first mission was to fight in the Battle of Oblivion's Gate. [1]
Creation
Edit
When in Lion spirits began to escape from the Oblivion's Gate in 1132, they dressed Turi with the Armor and the Katana of the Twilight Mountains. [2] The spirits joined Turi to fight the Shadows, [3] and appointed him as their first leader. [1]
Battle of Oblivion's Gate
Edit
It was unknown who assumed leadership of the unit following Turi's death during the retreat of the Battle of Oblivion's Gate. [4]
War of Spirits
Edit
During the War of Spirits, Tsuko's Heart was almost entirely comprimised of returned spirits, causing the unit to glow with a bright golden aura. The unit remained a part of the Lion Clan forces, fighting against the army of the returned spirits led by Hida Tsuneo and Hantei XVI. [5] [6] The unit was the rearguard force during the Battle of Quiet Winds, and they were all but obliterated alongside the Lion Clan Champion Kitsu Motso. [7]
Known Techniques
Edit
External Links
Edit
References
Ad blocker interference detected!
Wikia is a free-to-use site that makes money from advertising. We have a modified experience for viewers using ad blockers

Wikia is not accessible if you've made further modifications. Remove the custom ad blocker rule(s) and the page will load as expected.