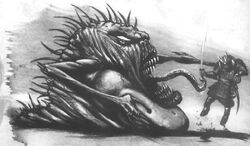 The Spawns of Tsuburu no Oni were the offsprings of the Tsuburu no Oni Oni Lord. The spawns of Tsuburu grapped its victims and began to devour them. Once inside its belly the prey body and soul were consumed. They could teleport themselves to another place within sight. [1] When the Tsuburu believed it has captured enough souls it traveled back to its Oni Lord and fed them to it. [2]
Appearance
Edit
They look like enormously fat naked humans with livid pink-purple skin, greasy black hair, and boils covering their back and belly. They moved slowly, but they telelported themselves next to its victim, and devoured him.
See also
Edit
References
Ad blocker interference detected!
Wikia is a free-to-use site that makes money from advertising. We have a modified experience for viewers using ad blockers

Wikia is not accessible if you've made further modifications. Remove the custom ad blocker rule(s) and the page will load as expected.