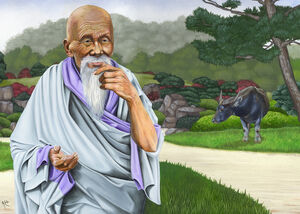 Tsiang, the Benevolent was a water monk who joined the Unicorn Clan.
It was claimed that the abbots of the Brotherhood of Shinsei were trained by Tsiang, a member of the Order of Longevity, when they were but initiates into the order. The same rumors claimed that Tsiang was centuries old, blessed by Jurojin, the Fortune of Longevity. [1]
Colonies
Edit
To combat the raising Fudo cult [1] Tsiang and seven other fellow monks traveled together to the Colonies in 1198. [2] He offered himself as advisor to the [3] Unicorn Clan to honor the memory of the late Horiuchi family. [4]
External Links
Edit
References