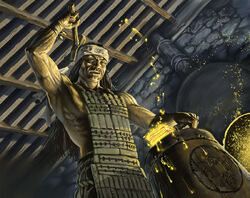 Tsi Hayamizu, the Hand of Steel was a Master Smith of the Oriole Clan who lived in the last years of the 12th century. [1]
Ambassador
Edit
Hayamizu was well rounded and known both as a skilled combatant and a gifted orator and poet, who wrote a poem for each of his crafts. He was appointed as an ambassador of the Alliance of Minor Clans [2] to the Scorpion Clan. He refused an invitation to join the Great Clan. [3]
External Links
Edit
References
Ad blocker interference detected!
Wikia is a free-to-use site that makes money from advertising. We have a modified experience for viewers using ad blockers

Wikia is not accessible if you've made further modifications. Remove the custom ad blocker rule(s) and the page will load as expected.