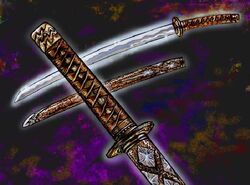 Tsi Blades were crafted by the famous weaponsmiths of the Tsi family. A gift of a Tsi blade was a great honor. [1] None could be forged without the Emperor's decree and every blade needed to pass through a Hantei's hands before it could touch any others. [2] Since the time of Emperor Hantei XXX, every Rokugani Emperor had possessed a Tsi blade of his own. [3]
External Links
Edit
References
Ad blocker interference detected!
Wikia is a free-to-use site that makes money from advertising. We have a modified experience for viewers using ad blockers

Wikia is not accessible if you've made further modifications. Remove the custom ad blocker rule(s) and the page will load as expected.