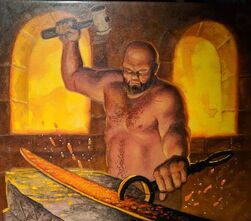 The Tsi Smiths school was created after Tsi, an assistant to a legendary Crane weaponsmith, [1] one of such reputation that he was called upon to make a blade for the Emperor. The first Tsi was permitted the honor of crafting the blade's tsuba, and the Emperor was so taken with it that he awarded the ronin his own family name. Only one Master Smith existed at any time. [2]
Renowned Smithers
Edit
Their traditions gave them remarkable insight into weapons of war, and their blades could often transíate into a tactical advantage on the battlefield. [3]
Known Techniques
Edit
See also
Edit
External Links
Edit
References
Ad blocker interference detected!
Wikia is a free-to-use site that makes money from advertising. We have a modified experience for viewers using ad blockers

Wikia is not accessible if you've made further modifications. Remove the custom ad blocker rule(s) and the page will load as expected.