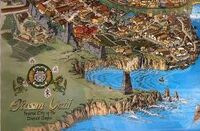 The Tsai district was one of the outer districts of Otosan Uchi. [1] It was named for it's governor prior to the Scorpion Coup, Bayushi Tsai, who had been made governor after Emperor Hantei XXXVIII personally had the previous governor Mirumoto Kenro removed. [1]
Scorpion Coup
Edit
The governor Bayushi Tsai worked closely with Bayushi Shoju during months prior to the Scorpion Coup, and its militia supported the Scorpion during the Coup. [2] In the fourth day the combined forces of the Clans had regained control of the majority of the Outer Districts. Only Tsai, Higshikawa and Meiyoko districts remained under Scorpion control, but they were seized in the fifth day. [3] Bayushi Tsai fled and never was seen again. [2]
After the Coup
Edit
For many weeks following the Coup, the district was unoccupied, abandoned, and without leadership. Ultimately, the Kosuga district consumed it, and a new advisor was placed of its day-to-day operations. [4] The newly formed district was named by the name of the former sub-district Yatoshin district. [5]
References
↑ Otosan Uchi: The Scorpion's Sting, pp. 26-27
↑ Otosan Uchi: The Scorpion's Sting, p. 80
↑ Winter Court: Kyuden Kakita, p. 121