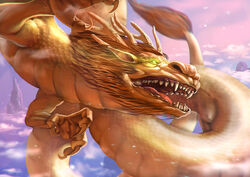 Tsai-tsu was a ryu tactician of the Dragon Clan.
Destroyer War
Edit
In 1172 Tsai-tsu descended from the Celestial Heavens to confront the Great Wyrm, a wyrm of incredible size and power used as steed by the Son of Fire during the Destroyer War. [1]
Colonies
Edit
In 1198 the creature descended over the Colonies, its curiosity piqued. He found the last village alive of the ruined Ivory Kingdoms. [2] The Ivinda Village [3] was located in an area which would be known as Tsuruchi Zeshin's Gift. [4]
External Links
Edit
References