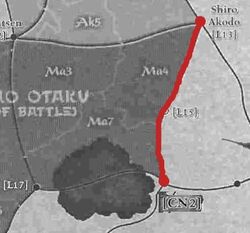 True Virtue Way connected Kyuden Kakita (CN2) with Shiro Akodo (L13), crossing Shiro no Yojin (L15). The poet Miya Jotahime named this road in a famous poem of the 3rd century in which she called the two families, Akodo and Kakita families, mirror images of each other, because their founders wrote a trea­tise on the way of the samurai (Akodo's Leadership and Kakita's The Sword), and also both were masters of their chosen style of combat (battle and the iaijutsu duel). [1]
References
↑ Secrets of the Lion, p. 65
Ad blocker interference detected!
Wikia is a free-to-use site that makes money from advertising. We have a modified experience for viewers using ad blockers

Wikia is not accessible if you've made further modifications. Remove the custom ad blocker rule(s) and the page will load as expected.