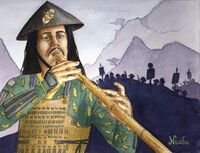 Travel Poetry was a Unicorn style of poetry, utilitarian, humorous and educational.
Teaching a lesson
Edit
It was a unique style of proverb and poem, different than the minimalist haiku. It was usually written in humor, and it expected to teach a lesson, serving as a reminder of those who had learned it. [1]
Construction
Edit
Travel poetry rarely rhymed, but always used alliteration. It also usually involved five lines without consideration to meter or rhythm and a sixth line that would sum up the poem. The first two lines of the poem would alliterate, the third line would alliterate within itself. The pattern continued for the fourth and fifth lines and the sixth. [2]
Death Poem
Edit
The "death poem" was a substyle of travel poetry. For the last line did not alliterate. This was to represent the "jarring" nature of death; the last line should never follow the expectation of the reader, in an attempt catching them off-guard. [2]
External Links
Edit
References
Ad blocker interference detected!
Wikia is a free-to-use site that makes money from advertising. We have a modified experience for viewers using ad blockers

Wikia is not accessible if you've made further modifications. Remove the custom ad blocker rule(s) and the page will load as expected.