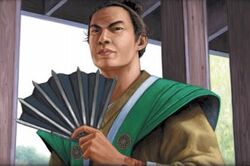 Traditionalist was the title given to those samurai who supported Iweko Seiken as the next Imperial Heir to Empress Iweko I. Those who supported his brother, Iweko Shibatsu, were known as Progressives. [1] Although they did not sanction action against one another, their followers took that initiative on their own. [2]
Traditionalist Supporters
Edit
When Seiken took control of the Second City, he was supported by the following clans: [3]
The Scorpion Clan officially supported Seiken, largely because of their close ties to the Crab, but they also shared valuable information to Iweko Shibatsu, even exposing the secret military plans of the Traditionalists. [4]
Aftermath
Edit
The Empress appointed Iweko Seiken as the new Emperor, [5] with the title Iweko II. [6]
External Links
Edit
References