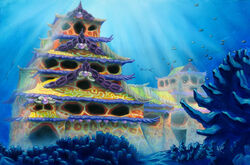 The Tower of the Ningyo was a golden tower in the middle of the sea between mainland of Rokugan and the Mantis islands. It seemed to be composed of coral, grown directly from the reef on which it sat. Its color was deep gold, the color of the rising sun. [1]
External Links
Edit
References
Ad blocker interference detected!
Wikia is a free-to-use site that makes money from advertising. We have a modified experience for viewers using ad blockers

Wikia is not accessible if you've made further modifications. Remove the custom ad blocker rule(s) and the page will load as expected.