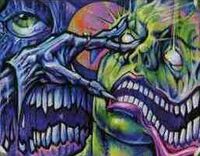 Touch of Fu Leng was a Mastery 5 maho spell which granted Shadowlands Powers that replaced the natural body parts. Anyone who became Lost through the agency of this spell came under the complete control of the caster. This scroll was originally a spell Isawa developed to heal great wounds, including lost limbs. [1]
References
↑ Time of the Void, p. 125
Ad blocker interference detected!
Wikia is a free-to-use site that makes money from advertising. We have a modified experience for viewers using ad blockers

Wikia is not accessible if you've made further modifications. Remove the custom ad blocker rule(s) and the page will load as expected.