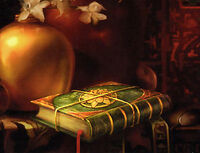 The Toturi III's Journal was the private journal of Toturi Naseru, the Emperor Toturi III.
The journal was found by Kitsuki Orika within the Imperial Library. It was gifted to the Crane Clan Champion Doji Domotai by Orika before she entered the Crane Clan upon marriage with Kakita Matabei, former leader of the Empress' Guard. [1]
External Links
Edit
References
Ad blocker interference detected!
Wikia is a free-to-use site that makes money from advertising. We have a modified experience for viewers using ad blockers

Wikia is not accessible if you've made further modifications. Remove the custom ad blocker rule(s) and the page will load as expected.