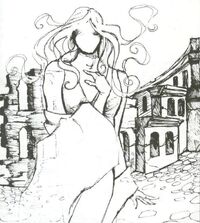 Toshi no Kijo was a troll city located in the place later known as the Shadowlands.
Hole to the Underworld
Edit
During the campaign of Hida Osano-Wo the trolls of this city sought escape opening a hole into the Underwold, but they were driven out by the spirits of the human ancestors. [1]
Haunted Place
Edit
The abandoned city was haunted by spirits which emerged from the hole with no faces. They could not remember who they were in life, but warned anyone away from the hole. even Shadowlands creatures avoided the ruins. [1]
References