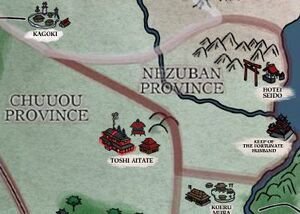 The City of the Open Hand was refounded by Bayushi Zenasaru, and it was formerly known as Sekkai Yurri, the City of Limes and Lilies. It was two days' ride southeast of Kyuden Bayushi [1] within Chuuou province. [2]
The city rested on a hill slope and the gates of Toshi Aitate did not open until night. All visitors were met by merchants to sell masks, which were customarily worn by all within the city, both locals and guests. The Road of the Fortune's Smile led from the city's main gates to the Temple of Daikoku. Along this road laid all the gambling dens, sake and tea houses, and geisha houses. [3]
Sekkai Yurri
Edit
The City of Limes and Lilies got his wealth from a silver mine, and it was a pit of corruption and filth populated by miners and gamblers. In the early 12th century the corrupt headman and magistrate allowed the rift between the two groups, and the peasants suffered. When miners hit an underground river half of the city was flooded, and its population decimated. The former west end of the town became a lake. [1]
Toshi Aitate
Edit
Bayushi Zenasaru, Bayushi Shoju's lieutenant, killed the corrupted headman and magistrate, and put his own yoriki in their places. He commanded to clean the mess and renamed the city as Toshi Aitate. He re-opened the city's gambling and tea houses, which were run by Emerald Magistrates. For the first time in Rokugan's history, legitimate gambling was available to the public. [1]
Clan War
Edit
Toshi Aitate was razed nearly to the ground during the Clan War by the Imperial Legions. It was quickly rebuilt once the Scorpion regained control of their lands. [3]
Notable Locations
Edit
Known Governors
Edit
References
↑ The Atlas of Rokugan, p. 157
Ad blocker interference detected!
Wikia is a free-to-use site that makes money from advertising. We have a modified experience for viewers using ad blockers

Wikia is not accessible if you've made further modifications. Remove the custom ad blocker rule(s) and the page will load as expected.