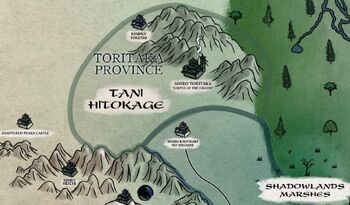 The Toritaka province was given to Yotogi, the son of an ashigaru spearman, by the Emperor when he saved an Imperial advisor from an assassin in 834. The lands became the home of the Falcon Clan, and later the Toritaka family after the Falcon Clan's absorption into the Crab Clan. [1]
Great Beauty
Edit
The province consisted of a single valley and a considerable amount of forest and hillside. [2] As the sun fell a ring of fire flared outlining the province, with hundreds of lanterns marking the boundaries of the land. Around the outskirts of the village laid offerings of food, small wood carvings, and other trinkets. These tokens were gifts to appease the angry spirits of the Shinomen Mori. It was one of the greatest beauties of the Toritaka. [3]
To the East the Shinomen Mori bordered the province, ronin and the former Boar lands to the West and South, and another Crab province to the South. [4]
Holdings
Edit
Kyuden Toketsu and Tani Hitokage were the most relevant holdings of the province. [5]
References
Ad blocker interference detected!
Wikia is a free-to-use site that makes money from advertising. We have a modified experience for viewers using ad blockers

Wikia is not accessible if you've made further modifications. Remove the custom ad blocker rule(s) and the page will load as expected.