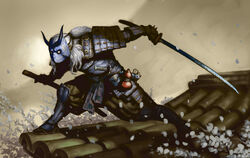 Toritaka Suppon was a bushi of the Crab Clan.
Trademark Mask
Edit
Suppon requested his Scorpion allies to craft a mask, and he told a story about an angry kappa. Since he wore the mask, he was known as the Masked Tortoise. [1] He was despised by his fellow kin, who did not understand why should bear the mask, as well as his ramblings about the spirits of tortoises. [2]
Prophecy of Darkness
Edit
Suppon's uncle was tired of dealing with him and his nonsense, managing to appoint Suppon in the Yureigumi. He began advancements towards Toritaka Yukiye, which were rebuffed. In 1200 the squad moved from Kyuden Toketsu to the borders of the Shinomen Mori under the command of his cousin Toritaka Iabuchi. The squad investigated reports of Naga sightings, upon request of the Hiruma Daimyo Hiruma Tomoe, who feared the return of the Dark Naga. Suppon stumbled upon the corpse of a monk, and took his last writings, bringing the Prophecy of Darkness to Shiro Toritaka. [2]
External Links
Edit
References
Ad blocker interference detected!
Wikia is a free-to-use site that makes money from advertising. We have a modified experience for viewers using ad blockers

Wikia is not accessible if you've made further modifications. Remove the custom ad blocker rule(s) and the page will load as expected.