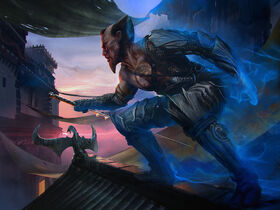 Toritaka Isai was a scout of the Crab Clan.
Colonies
Edit
Isai was appointed in the Second City and was tasked to learn what knew the Dragon Clan about the Crab mutan known as Hida Kaiji. [1]
Yureigumi
Edit
Isai was a member of the Yureigumi, under the command of Toritaka Iabuchi. In 1200 they moved from Kyuden Toketsu to the borders of the Shinomen Mori, to investigate reports of Naga sightings, upon request of the Hiruma Daimyo Hiruma Tomoe, who feared the return of the Dark Naga. [2]
External Links
Edit
References
Ad blocker interference detected!
Wikia is a free-to-use site that makes money from advertising. We have a modified experience for viewers using ad blockers

Wikia is not accessible if you've made further modifications. Remove the custom ad blocker rule(s) and the page will load as expected.