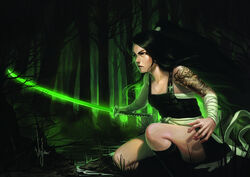 Toritaka Chokichi was a bushi and scout of the Crab Clan.
Seeking Fubatsu
Edit
When in 1198 Hida Fubatsu disappeared from his forge, Chockichi was sent to find him and those who had kidnapped the smither. [1] Eventually Fubatsu was fred by the Imperial Legions. [2]
A Matter of Honor
Edit
In 1199 a Crab army had engaged a Lion army in the Plains of Thunder to resolve a matter of honor, which involved a slight against her Clan's honor for the appearance of an oni of the Shadowlands, Minikui no Oni, within the Lion lands. Alongside with Ikoma Natsu they exposed the true responsible, a corrupted shugenja descendant of the disgraced and defunct Shimizu family, who had summoned the demon. [3]
Inheritance
Edit
Her uncle, the aged Toritaka Kaiketsu, looked Chokichi as his replacement as Toritaka Daimyo. This year Chokichi was sent to Imperial Winter Court to test her ability to lead and interact with the kuge of the Empire. She spent the majority of her time in the wilderness, far from the dangers of politics. [4]
External Links
Edit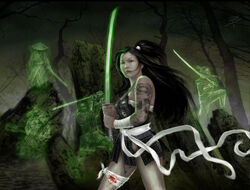 References
Ad blocker interference detected!
Wikia is a free-to-use site that makes money from advertising. We have a modified experience for viewers using ad blockers

Wikia is not accessible if you've made further modifications. Remove the custom ad blocker rule(s) and the page will load as expected.