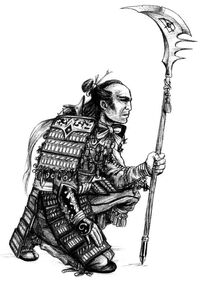 After the absorption of the Falcon Clan into the Crab Clan, the Toritaka family had resources previously unavailable to them. This had greatly improved the techniques of their bushi school, and the Toritaka Bushi served as the eyes of the Crab, searching out menaces from other spirit realms beyond Jigoku. [1]
The Toritaka Bushi were not allowed to enter into a lethal duel, and even they forbade to learn iaijutsu. Falcons who were challenged set the rules of a non-lethal confrontations. Blindfolded duelists stroke thrown apples with naginata or katana, or a demonstration of kendo, again without sight, decided the victor. [2]
Toritaka Bushi Techniques
Edit
See also
Edit
References
Ad blocker interference detected!
Wikia is a free-to-use site that makes money from advertising. We have a modified experience for viewers using ad blockers

Wikia is not accessible if you've made further modifications. Remove the custom ad blocker rule(s) and the page will load as expected.