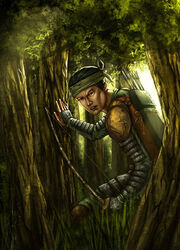 Torakichi was a ronin scout. Utagawa admired his skill, noting in her journal that he could move through forests like a shadow. She believed his assistance improved the Legion's intelligence gathering tenfold. [1]
Legion of Two Thousand
Edit
Torakichi was a member of the Legion of Two Thousand. [2]
In 1172 Kataoko and Torakichi managed to evade the quarantine the Scorpion had edicted on Ryoko Owari. The city had been infected by the plague beyond redemption. [2]
References