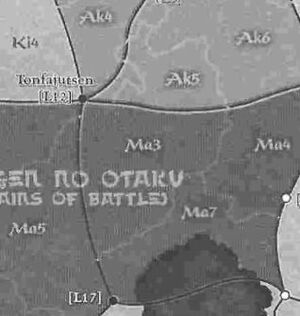 The Tonfajutsen province (Ma3) was one of the Matsu provinces extending in the Plains of Battle from the southernmost borders of Renga (Ak4) and Shimizu provinces (Ak5) to the northernmost borders of the Kaeru province (Ma7), from the westernmost borders of Yojin province (Ma4), to the easternmost borders of Heigen province (Ma5). Notable locations within the province was the city of Tonfajutsen (L12) and its Central Castle. [1]
References
↑ Secrets of the Lion, p. 95
Ad blocker interference detected!
Wikia is a free-to-use site that makes money from advertising. We have a modified experience for viewers using ad blockers

Wikia is not accessible if you've made further modifications. Remove the custom ad blocker rule(s) and the page will load as expected.