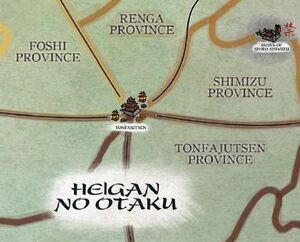 Tonfajutsen (L12) in the Tonfajutsen province, [1] was a city built in a strategic point, at the convergence of Matsu, Akodo and Kitsu lands, and at the junction of five major roads in the Lion territory. [2]
Storehouses
Edit
The city held a dojo, the Crossroads Dojo, [3] and the simple, unadorned Central Castle or Crossroad Fortress, was the centerpiece of the city. An entire legion of quartermasters and officers was permanently stationed at the castle, to handle with the Tonfajusen's seemingly endless storehouses. Virtually every ounce of rice, barley, or any other foodstuff available to the Lion was collected within Tonfajusen. [4]
Gozoki Smith
Edit
Legend held that in Tonfajutsen a smith named Gokuzi first developed a fighting style for turning farming implements into what were later known as peasant weapons. [5] Despite this poor reputation the city had prospered as a military outpost, the heimin were well trained and work with the city magistrates to maintain order. [6]
The Handles
Edit
The city had grown quickly, and the influx of new people had to be handled. Magistrates worked together with heimin warriors to keep order in the city. These unofficial heimin deputies used the tonfa and had adopted the name of the Handles. [2]
In the 7th century the Daidoji captured the city and burned it to the ground. [7] In 1159 the fortress was expanded just outside the city to accommodate the garrrisoned troops, mobilized against the Tsuno threat. [8]
Known Governors
Edit
References
Ad blocker interference detected!
Wikia is a free-to-use site that makes money from advertising. We have a modified experience for viewers using ad blockers

Wikia is not accessible if you've made further modifications. Remove the custom ad blocker rule(s) and the page will load as expected.