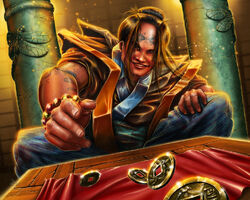 Tonbo Inuyama, the Eye of Tomorrow was a Void Diviner of the Dragonfly Clan who lived in the last years of the 12th century.
Nicknamed the Eye of Tomorrow, Inuyama had a strong connection with the Void element, which allowed to perceive some of the simplest truths about the future in a more consistent manner than even many greater Void shugenja. His frequent visions did not gaze particularly far into the future were very accuracy. After years of selfless service to the Dragonfly and the Dragon, Inuyama was at the disposal of the Alliance of Minor Clans. [1]
"I see windows into tomorrow."
Phoenix Clan
Edit
Inuyama was appointed as ambassador [3] to the Phoenix Clan, and eventually joined the Great Clan. [4]
Winter Court, 1199
Edit
In 1199 Inuyama attended Imperial Winter Court at Toshi Ranbo, where he met Tsuruchi Kinuyo, a young Bounty Hunter. His spiritual guidance and fondness for Kinuyo slowly transformed into something closer than friendship. [5] During the courtly event known as the Devil's Chase, Seppun Asagako, Iweko Miaka's yojimbo, revealed to have been replaced by an oni. Seppun Teshan confronted Kommei no Oni, [6] being grievously wounded. Inuyama eventually healed him. [7] Eventually Inuyama was betrothed to Yoritomo Rumi. [8]
Rise of Jigoku
Edit
In 1200 in the Month of the Dog, Inuyama, Hida Tadama, Daidoji Sakuzou, Isawa Hibana, Ikoma Masaru, Tsuruchi Kinuyo, Kuni Sango, and Shosuro Yoshiyuki found evidences of an impeding Spider attack near Cold Wind City. The village was evacuated before the Battle of the Second Seal began. [8]
External Links
Edit
References
Ad blocker interference detected!
Wikia is a free-to-use site that makes money from advertising. We have a modified experience for viewers using ad blockers

Wikia is not accessible if you've made further modifications. Remove the custom ad blocker rule(s) and the page will load as expected.