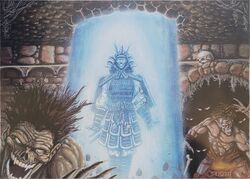 The Tomb of the Goddess was built in the City of the Seventh Star by the Ashalan Maymun in 332. The crystal sarcophagus allowed Lady Shinjo to sleep during her slumber. When the time would come, the prophecy known as the Awakening would free her, and the magical enchantments bounds in the Tomb would release the jinn of the Qanon from their human hosts. [1]
References
↑ Legend of the Burning Sands Roleplaying Game, p. 131
Ad blocker interference detected!
Wikia is a free-to-use site that makes money from advertising. We have a modified experience for viewers using ad blockers

Wikia is not accessible if you've made further modifications. Remove the custom ad blocker rule(s) and the page will load as expected.