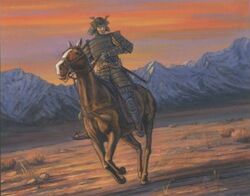 Mokoto was a ronin, one of the original Twelve Ronin, who became the magistrate Toku Mokoto when the Monkey Clan was created.
Twelve Ronin
Edit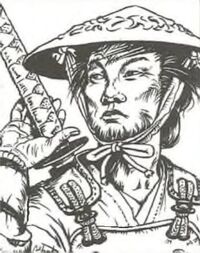 Mokoto was a seasoned ronin who was present in the camp of Toturi's Army when the former and dishonored Lion Clan Champion, Toturi the Black, was selecting through a contest the members of an elite group, the Twelve Ronin. An Ise Zumi stood as Champion for some time, and he easily defeated a young Ronin. Mokoto had a sharp eye for finding an opponent's weakness, and spoke with the demoralized youth, who stepped forward again, and this time defeating the Tattooed Monk. The youth's skill had not improved at all, but his assessment of his opponent had changed dramatically. Toturi, who had noticed that the older samurai had provided the youth with such insight, asked Mokoto to join the Twelve Ronin. [1]
Mokoto was familiar with many kata, and he was among the first to grasp the full curriculum of the Thousand Years of Steel. He developed the Body Clears Mind kata which saw frequent use in the Monkey Clan and with the Emerald Magistrates. [2]
Toturi's loyal follower
Edit
Mokoto was under Toturi's command in the Day of Thunder. He again followed Toturi when he returned as spirit during the Battle of Oblivion's Gate. When the War of Spirits began, Mokoto stood alongside Toturi, fighting the Hantei XVI's Spirit Army. [3]
See also
Edit
External Links
Edit
References
Ad blocker interference detected!
Wikia is a free-to-use site that makes money from advertising. We have a modified experience for viewers using ad blockers

Wikia is not accessible if you've made further modifications. Remove the custom ad blocker rule(s) and the page will load as expected.