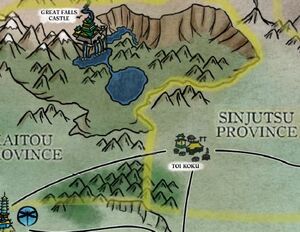 The Distant Paddy Village (D12) in the Sinjutsu province, [1] was where merchants came to deliver rice to the Dragon Clan in return for the Dragon gold. [2] Several small outposts in this village housed merchants from various other Great Clans. [3] Although the Dragon were very different from the other clans they still needed to eat, and the mountains did not grow crops very well. During the eruptions of the volcano Wrath of the Kami this village was vital in keeping the Dragon alive. [4]
War of Dark Fire
Edit
In 1171 the village was evacuated before the yobanjin Army of Fire arrived. The Rokugani poured lantern oil over the whole village and when the raiders reached the center a Crane, Kakita Okirou, drew a fired arrow. The yobanjin died and the village was burned down. [5]
References
Ad blocker interference detected!
Wikia is a free-to-use site that makes money from advertising. We have a modified experience for viewers using ad blockers

Wikia is not accessible if you've made further modifications. Remove the custom ad blocker rule(s) and the page will load as expected.