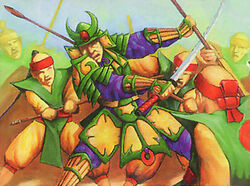 The Togashi Testing Grounds, named after the Kami Togashi, were an area of the mountains just behind the High House of Light, the most rugged and inhospitable terrain in all the Dragon provinces. [1]
Wildlife
Edit
The cliffs were sheer, the weather was severely cold, and avalanches were frequent, so travelers were advised to avoid the area. Powerful predators mafe their home in the cliffs, including cougars, bears, and even a tribe of feral zokujin. Trickster spirits took great delight in bringing torment to those who passed through there. [1]
Testing Grounds
Edit
The Three Orders used the area as training area for newly Tattooed Monks, since Togashi named these lands as the dojo for those who bore his mystic tattoos. Those who survived a passage through the Testing Grounds received a non-magical tattoo of a dragon scale on the tattooed monk's body for every day he survived there. [2] Every week, the Master Sensei carefully sought the Testing Grounds to make sure no one was left helpless inside the lands. [3]
Known Masters of the Grounds
Edit
External Links
Edit
References
Ad blocker interference detected!
Wikia is a free-to-use site that makes money from advertising. We have a modified experience for viewers using ad blockers

Wikia is not accessible if you've made further modifications. Remove the custom ad blocker rule(s) and the page will load as expected.